Watch: Symposium on the Future of the Liberal Arts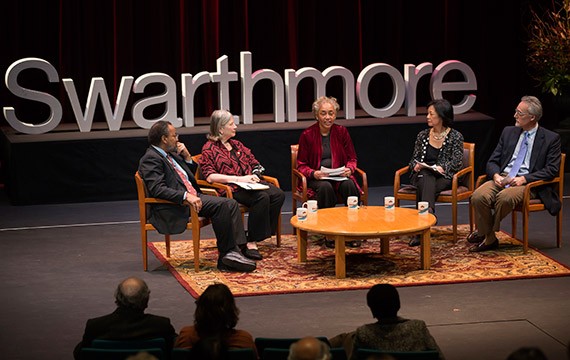 To help celebrate its sesquicentennial, Swarthmore College hosted a symposium titled "The Future of the Liberal Arts" on Sat., Feb. 22, in the Eugene and Theresa Lang Performing Arts Center. The event, presented by the College's Institute for the Liberal Arts, included two panel discussions featuring distinguished alumni leaders in higher education, as well as a keynote address from  Mary Schmidt Campbell '69, dean of the Tisch School of the Arts, New York University. 
"I consider Swarthmore alumni who are leaders in higher education to be among the College's greatest sources of pride," says President Rebecca Chopp. "This symposium offers a rare opportunity to feature their diverse thoughts and ideas." Read President Chopp's remarks from a banquet after the event.
The entire symposium was live tweeted; view a transcipt via Storify.