Twelfth Night Performances a Sesquicentennial Celebration and Homecoming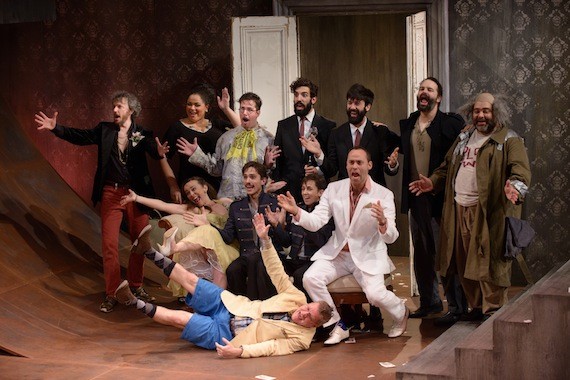 All was well with Pig Iron.
Co-directed by Dan Rothenberg '95, Quinn Bauriedel '94, and Dito van Reigersberg '94, the Obie-award-winning theatre company had wrapped a successful run of its Twelfth Night show before friendly faces in its hometown of Philadelphia. The co-directors set sights on The Big Apple for a three-week run of the production through February, kicking off their 20th year as a company.
Appearing in the epicenter of performing arts is cause for celebration in itself. But then came a New York Times rave, replete with big, vivid photographs practically popping off of the page.
"I don't know who slept with whom for that," says van Reigersberg, "but people were freaking out. We had to add more shows."
Striking while Pig Iron is hot, Swarthmore welcomes the company back to campus for three performances and a student workshop this weekend, marking the College sesquicentennial and setting the stage for what van Reigersberg considers "a really special homecoming."
"Other cast members who don't know about Swarthmore keep asking, 'Is this gonna be lame? Suburban Philadelphia?' he says. "It's like, no, you have no idea about the beauty of this place - not to mention audiences who are super supportive, super appreciative, and super intelligent." (Van Reigersberg's alter ego, Martha Graham Cracker, will perform at this year's All-Alumni Reunion Weekend in June).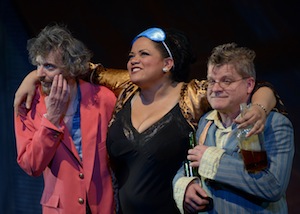 The performances affirm the company's long-held ties to the College, which include student externships, a summer residency program, and Bauriedel's place in the theater faculty. The alums trace their first original work together back to summer 1995 rehearsals in Frear Ensemble Theater, which laid the groundwork for the Swarthmore Project in Theater (SPT). 
"We're so grateful to the theater program for bringing us together," van Reigersberg says, "and [Professor of Theater] Allen Kuharski has been a real advocate for us as the company has grown. When he approached us about helping to celebrate the sesquicentennial, it was an easy decision."
By deploying an ensemble of live musicians on stage alongside 12 actors for Twelfth Night, the company reimagines the classic text in cursive. Credit the co-directors' proclivity for adventure.
"Experimental theater is about opening up new ways of seeing," says Rothenberg, who directs the production. "Could we sneak this into a Shakespeare play without deconstructing the thing? All our experiments with clown theater, with cabaret, and with dance theater inform the way people speak and move in this production, resulting in a rough, wholly American Twelfth Night."
The show defies expectations. When you picture a Shakespeare performance, you may see yourself spacing out or reaching for your smartphone. But this one "bends time," notes the New York Times, making the nearly three-hour performance feel brisk.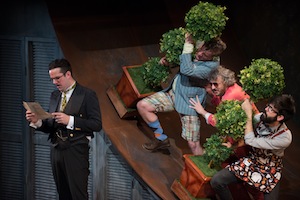 "There's no higher compliment for us," says van Reigersberg, who portrays Count Orsino. "We want it to feel more like a party than a play."
The first line of dialogue - "If music be the food of love, play on" - sets a tone. It's the music that drives the show.
"Music of raucous drunkenness," says van Reigersberg, "followed by some of the saddest music in the world."
That dichotomy is the heartbeat of the play, imbuing humanity.
"Start with a shipwreck, take one part mistaken identity, add in a comedic love triangle and mix with excessive drinking, melodramatic breakdowns, and a live, Balkan-inspired musical score, and you've got a raucous take on one of Shakespeare's most wicked comedies," reads Playbill. "Alternately absurd and heartfelt, Twelfth Night, or What You Will is replete with practical jokes, gender confusion, and thwarted love."
"Admire the mad whirligig that is Pig Iron," adds Time Out New York, which urged New Yorkers to travel to Philly for the production in 2011. "It's a marvelous piece of entertainment ... [an] ebullient production." 
Bringing this buzz-worthy show back to the place where it all began would have been emotional enough for the co-directors. But since there are no plans to review Twelfth Night after Sunday, the weekend carries extra weight.
"It'll be a little tearful at the end of the [Sunday evening] performance," says van Reigersberg. "But now with that Times review, who knows. Someone may knock on our door."
The Swarthmore College Department of Theater, Department of English Literature, Department of Music and Dance, and the William J. Cooper Foundation present Pig Iron Theatre Company's Twelfth Night, or What You Will on Sat., Mar. 1 at 7 p.m. and Sun., Mar. 2 at 2 p.m. and 7 p.m. in LPAC Pearson-Hall Theatre. Admission is free and reservations are not required, but seating is limited. A post-show discussion with director Dan Rothenberg '95, moderated by Professor of Theater Allen Kuharski, follows the Sunday matinee.