Listen: Invoking the Spirit
Swarthmore's year of sesquicentennial celebrations is going out on a high note.
On Friday, the Department of Music and the Sesquicentennial Committee presented a Founders Day concert performed by the College's chorus and orchestra. It's an event by, for, and drawing upon the entire College community. 
Maurice Eldridge '61, vice president for college and community relations and chair of the sesquicentennial committee, sought a performing arts event that could both cap the year's celebration and help to revive the tradition of Founders Day. When he learned about an award recently bestowed upon composer James Matheson '92, it clicked.
"I just thought he would be perfect for what we're aiming for," says Eldridge. "He's a very promising young composer, and beyond that, he's one of ours."
The committee commissioned Matheson to create an original piece aligning with the spirit of the sesquicentennial, which yielded Peace Talks . Inspired by Edward Hicks' The Peaceable Kingdom, it's "a musical reflection on humanity's ongoing struggle not to destroy itself," says Matheson.
The piece features excerpts of speeches [pdf] given at commencement ceremonies over the years, from Albert Einstein to former president Rebecca Chopp, which convey the gravity of the times.
"Many of these speeches have included thoughts on peace, war, and conflict with the natural world," says Matheson. "It seemed quintessentially Swarthmorean to choose a subject so intimately tied to the Swarthmore ethos and the College's Quaker roots."
Matheson enlisted friend and College classmate Jared Green to compose the libretto — an opportunity they relished.
"We talked at length about how meaningful it is to collaborate on a work to honor an institution that has played such an important role in our lives," says Matheson. "It's a chance to give something back to a place we both love."
The final product invites thought and poignancy. For Joseph Gregorio, director of the College's chorus and chamber choir, it's one line of text in particular: "When in the sunset of life the youths of this generation shall look out upon their America, what will they see?"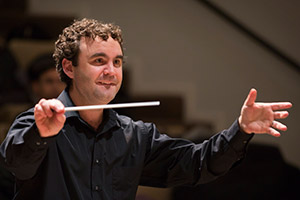 "This, I suspect, will resonate with most of the Swarthmore community," he says. "We use reason in the service of good, and work, through our inquiry and teaching, toward a more just and more peaceful future for our students and all of humanity. "
Gregorio worked closely with Andrew Hauze '04, conductor of the College orchestra, to complement Peace Talks. The chorus and orchestra, consisting of members from across the College community, will perform pieces from Sibelius and Fauré and a variety of American composers and traditions.
Hauze revels in the uniqueness of bringing the orchestra and chorus together for the world premiere of a work specially commissioned for them.
"It's always a thrill to work on a piece that has no performance history or interpretative traditions," he says. "Rehearsals become much more of a workshop or laboratory in which we can try out different approaches to the music and see what works best for our musicians."
For members of the chorus, developing a comfort level with Peace Talks has been a daunting task.
"One of the main challenges has been wrapping our minds and voices around the music itself," says Paolo-Alexander Debuque '15, a music major from Eden Prairie, Minn. "It's quite different from most of the music our chorus has sung in recent years."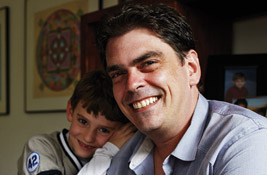 "With mixed meter, clashing harmonies, and unique instrumentation, this piece is unlike the traditionally classical or romantic works that the chorus often performs," adds Kyle Leigh Carney '16, a music and mathematics major from Wallingford, Pa. "I think that the orchestra was able to grasp the feel of the piece a bit more easily, but it also poses a few unique challenges with sustained harmonic sections and drastic dynamic changes."
Preceding this tapestry of sounds will be a moment of silence at 8:05 p.m., which the entire College community, whether in person or following along online, is invited to observe. Eldridge planned the moment of silence as a chance to reflect on the vision and commitment of the College's founders and the countless others who have built upon them.
"It's invoking the spirit of the College, recognizing its ability to sustain itself and its values for a century and a half," he says. "That's a pretty big deal."