2010 14th President Rebecca Chopp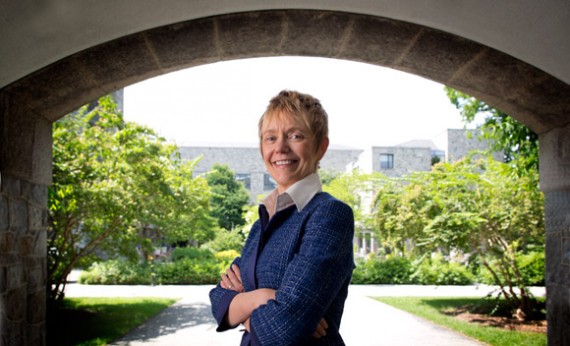 Rebecca Chopp is the 14th president of Swarthmore College and a professor in the religion department. As president, she has focused on the "signatures" of the College - academic rigor and creativity and intentional, residential community - in order to affirm and amplify the College's tradition as a progressive leader in liberal arts education in the nation and the world. She has also passionately upheld the College's long-standing commitment to admitting the most highly qualified students without regard for their financial circumstances, even as she guided the College through a period of significant financial challenges.
Believing that intentional academic communities are powerful incubators that create new ways to link knowledge, freedom, and democracy on a global stage, Chopp has worked tirelessly to support the innovative ways in which faculty and students interact at Swarthmore. She has also extended the distinctive role Swarthmore plays in educating students to build inclusive, civil, and environmentally and fiscally sustainable communities and on training the next generation of leaders motivated to contribute to the common good.
There are many initiatives currently underway at Swarthmore that support these efforts, each articulated in Strategic Directions, the culmination of a broadly consultative planning process that Chopp led to provide a framework for the College's future.
Chopp is a well-known scholar of progressive religious movements in American culture and has most recently focused her research on changing structures and cultures of higher education, on the role of liberal arts in a democratic society, and on religion and higher education. She is the author or editor of five books, including The Power to Speak: Feminism, Language, God (2002) and The Praxis of Suffering: An Interpretation of Liberation and Political Theologies (2007), and has published more than 50 articles. In November 2013, she published Remaking College: Innovation and the Liberal Arts.
Before joining the Swarthmore community, Chopp was president of Colgate University, where she led a comprehensive strategic plan that greatly expanded the university's academic space, strengthened academic programs and developed new interdisciplinary centers, implemented a new vision for residential education, and expanded university-community partnerships. Chopp also served as provost and executive vice president for academic affairs at Emory University.
Chopp has served as the chair of the Centennial Conference President's Council. Previously, she served on the governing boards of the Association of American Colleges and Universities and the National Survey of Student Engagement, and she has served on the executive committee of the Annapolis Group and the board of trustees of the Carnegie Foundation for Teaching. Chopp is a former president of the American Academy of Religion.
A native of Kansas, Chopp received a B.A. from Kansas Wesleyan University, an M.Div. from St. Paul School of Theology, and a Ph.D. from the University of Chicago. Each of her alma maters has honored her with distinguished awards, and she has received six honorary doctorates from other colleges and universities.