1991 April Fools Day Pranks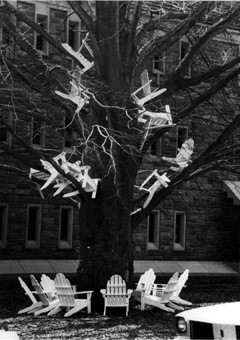 Chairs in trees are just a small part of the College's long history of April Fools Day pranks. One fabled tale from 1929 involves a cow that was led to, but resisted the descent from, the second floor of Parrish Hall. Elise Stammelbach Welfling '33, a freshman living in Parrish that year, wrote in her diary:
"Oct. 31:  At about four in the morning I heard the worst racket but just supposed it to be someone snoring heavily.  In the morning I found that the boys had gotten a cow into the building, and it had gotten clear up to the second floor.  They do the craziest things around here!"
In 1965, Student Council brought to campus Sergei Nesmeyanov, the "Hangman of Hungary," who ranted in Russian against Western decadence in a talk before the College community. It was a hoax; Nesmeyanov was actually a student's friend from Columbia University.
By at least one account (thank you, Steven Daniels '81!), some students in the 1970s stayed in McCabe Library after hours and hid all of the card catalog drawers around the building. Some of the drawers were easier to find than others, and students in the know called the library anonymously over the next few days to give hints of where to find them. 
Daniels also remembers large banners flown from Clothier Tower on a regular basis.  One said "This Space for Rent" and gave the president's phone number.  Another was a Playboy bunny logo. Prior to his graduation, the culprit put four of his works up on the tower at once, adding a mortar board to the bunny.
In 1999, members of Swarthmore Warders of Imaginative Literature (now Psi Phi) replaced more than 300 of the Scott Arboretum labels on campus with signs such as "Green Plant (Herba viridis oxymorae)" and "Tall Tree (Arbor longa)."  Three years later, a senior programmed the printers in two campus computer labs to delete the words "postmodern," "capitalism," "Afghanistan," and about 260 others and print them as blank spaces.
More recently, in 2008, the face of Edvard Munch's "The Scream" was superimposed on "Sappho" outside of Sharples Dining Hall. In 2012, engineering students hung a replica of the Big Chair on Parrish Beach upside down in the Science Center's Eldridge Commons. In 2014, a team of engineers extended the Crum Creek Meander installation into Sharples and the College dropped the first "r" in "Swarthmore" to "correct 150 years of mispronunciation confusion."
Know of more pranks? Let us know!