1969 Black Liberation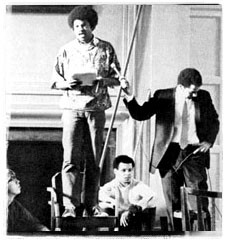 In January 1969, two campus events became inextricably linked: the occupation of the Admissions Office by students who strongly advocated that Swarthmore admit more African-American students and, eight days later, the sudden death of President Courtney Smith, the College's popular leader since 1953. The efforts of the students resulted in the hiring of black faculty and administrators, the development of a Black Studies program, and the creation of the Black Cultural Center.
In 2014, Professor of History Allison Dorsey led a research seminar in creating an archive of the civil rights movement at Swarthmore. The Black Liberation 1969 archive includes nearly 1,000 documents showing an array of voices and viewpoints from this time.
The archive "stands as a bulwark against the College losing or forgetting the story of black student activism, which significantly improved Swarthmore for the better," says Dorsey.